Why Choose 43" Vertical Cabinets from RedPlum Games - Product Analysis & Review
The world of skill games is growing rapidly, and RedPlum Games is here to provide you with the best gaming solutions. The 43″ Vertical Cabinets are designed with both players and operators in mind, combining sleek design, advanced technology, and unparalleled functionality. If you're looking to attract more players and provide an unforgettable gaming experience, these cabinets are the perfect choice for your business.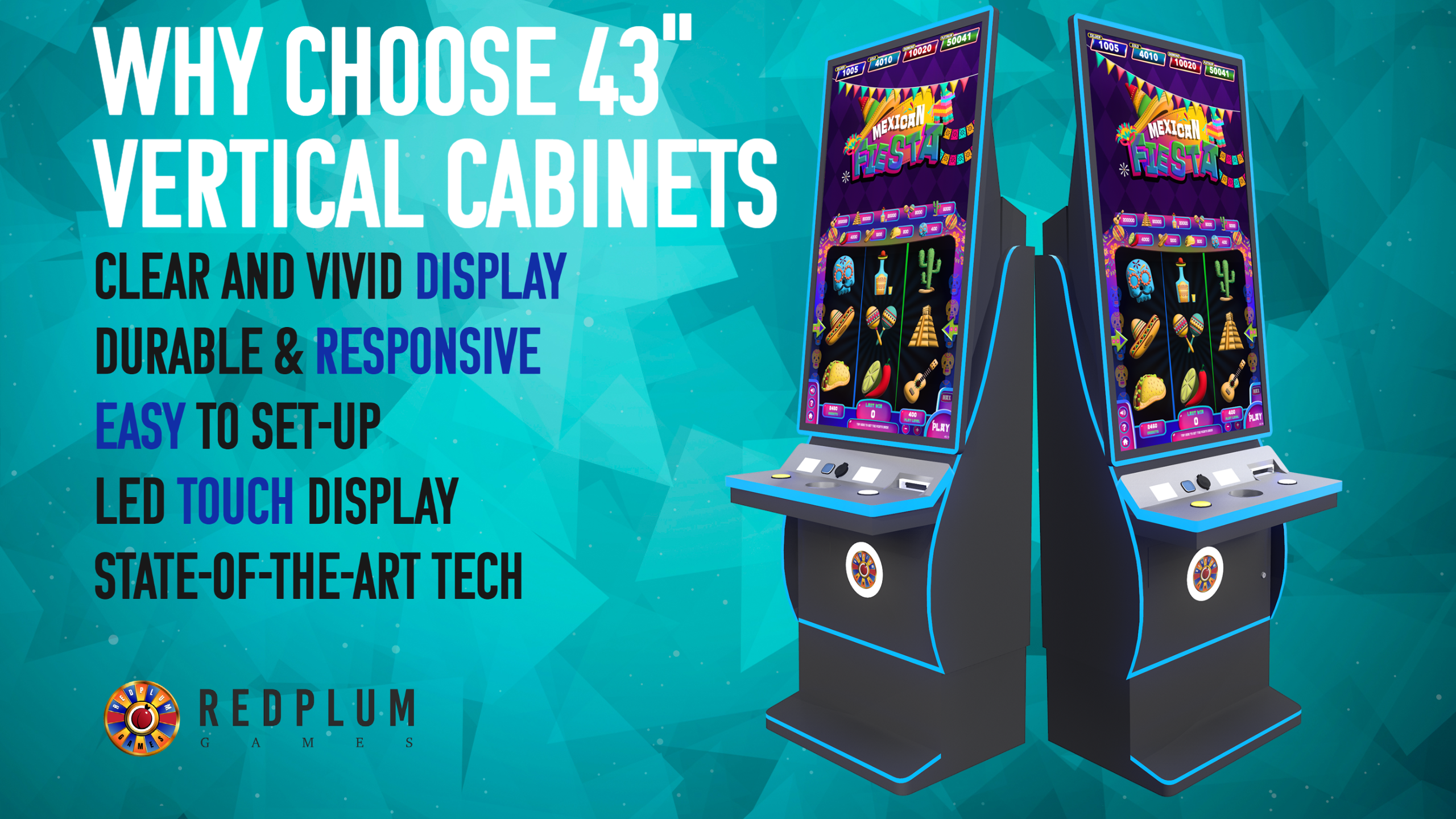 Clear and Vivid Display
One of the key features of the 43″ Vertical Cabinets is their high-quality displays. These cabinets use 100% new Grade A+ TFT LCD screens, with a brightness of 350cd/m2 and a contrast ratio of 1000:1. This means that your games will look crisp and clear, with vivid colors and sharp details that will draw in players and keep them engaged.
Durable & Responsive
In addition to their high-quality displays, the 43″ Vertical Cabinets also feature PCAP touch screens that are anti-static, anti-glare, anti-acid, and anti-vandal. These screens have an orientation precision of less than 2mm, and are made from full toughened glass for added durability. With a resolution of 4096×4096 and a life expectancy of more than 50,000,000 touches, these screens are built to last and provide a smooth, responsive gaming experience.
State-of-the-Art Cabinets
The cabinets themselves are also built to last, with a robust kiosk body made from cold rolled steel metal that is 1.5mm thick. They come in a range of customized colors and logos to match your brand, and feature built-in stereo amplifiers and dual-channel amplified speakers for high-quality sound. The cabinets also come with two internal fans for heat ventilation, and can be powered on or shut down via an external reset button.
Adaptive & Easy To Set-up
But the benefits of the 43″ Vertical Cabinets don't stop there. These cabinets are also designed to be easy to set up and use, with a Linux-based system that has an encrypted root and home directory. They use USB-based printers, bill acceptors, IO boards, and touch screens, with no special com port requirements. They also feature encrypted barcodes for tickets, and can be set up with points or dollars for added flexibility. And with progressive jackpots that can be updated from the admin panel, game analytics, and easy game updates offline or online, these cabinets are the perfect choice for any skill game operator.
Unique Features at a Glance
The cabinets boast a plethora of unique features that set them apart from competitors:
Adjustable shelves for easy game setup and customization.
Locking doors for added security and peace of mind.
Durable construction to withstand heavy usage and ensure longevity.
Linux-based system for stable and reliable operation.
Android and iOS app for ticket validation and game analysis, making it easier to manage your business.
Games can be set up with points or dollars, giving you flexibility in how you operate.
Progressive jackpots to keep players engaged and increase their chances of winning.
Enhanced security features such as encrypted barcodes for tickets.
In conclusion, if you're looking for a high-quality vertical cabinet for your skill games, the 43″ Vertical Cabinets from RedPlum Games are an excellent choice. With their high-quality displays, responsive touch screens, and robust kiosk bodies, these cabinets are built to provide the best gaming experience for your customers. And with their easy setup and flexible features, they're sure to be a hit with operators as well.
So why wait? Contact us today to learn more about the 43″ Vertical Cabinets and how they can help take your restaurant, entertainment or just any other business to a new and profitable level.